Ecommerce PPC Management Services: Maximize Your Bottom Line
If you have a product to sell, but you're not using Google Ads you are definitely missing out on expanding your bottom line. Ecommerce sites can benefit from multiple types of Google ads including:
Search ads
Dynamic ads
Display ads
Shopping ads
Remarketing ads
Bing ads
These are just the ads available on Google! That's not even mentioning all the social media ads you can benefit from!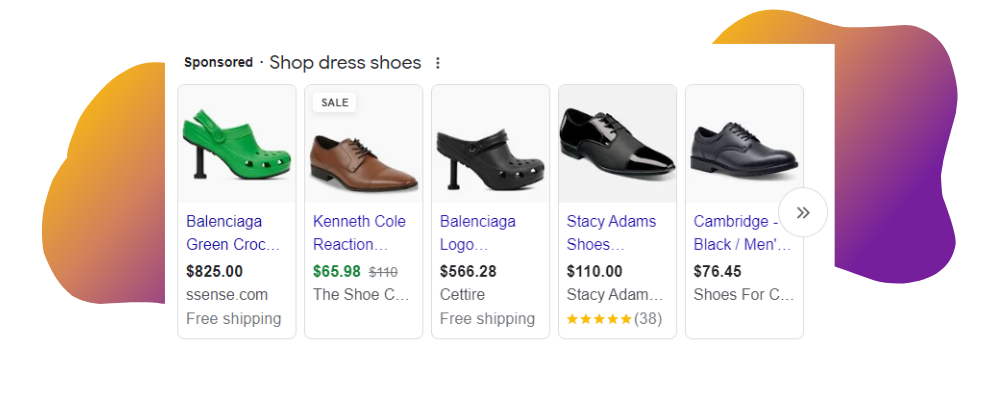 Google Shopping
Ads Shopping ads show up for users searching for a tangible product and they are prominently placed near the top of the page.
These ads are very effective as they are the most eye-catching visuals on a shopping search query. They show the picture of the product, the title, and the price! Some also show different attributes like ratings or "free shipping".
Google Ads
Google Ads can target a set URL you choose, or they can be dynamic! Dynamic ads will target the whole site with a feed of pages that you choose based on certain parameters. This is a huge part of Amazon's customer acquisition strategy for example. If you search for a product online you might be greeted with an ad from Amazon that shows exactly what you searched for!
That's because the URL and headlines will populate with the most relevant content onsite, then you can decide what goes in the description! When you're dealing with massive sites, this is an awesome time saver and can net you lots of valuable search data.
Bing Ads
Haven't used Bing in a while? That's ok, you're not alone. However, a decent amount of people still do use Bing and you can easily transfer your Google Ads into Bing. Bing ads work with the same philosophy as Google search ads.
Remarketing
If you have a remarketing tag on your website (if you don't we can install one), then you can remarket ads to people that have specifically already visited your website! This may not seem that enticing at first, but lots of people do not purchase the product on the first point of contact, however, they may do so with repeat advertising.
How Do We Manage Your PPC Campaigns?
PPC campaigns take lots of effort to achieve success. Here is how we achieve that success.
Research
Let's start off on the right foot by doing lots of research! The amount of research required will largely depend on the size of your inventory and what you hope to achieve. We will also be looking at your competitor's strategies to see what everyone else is doing.
Build
Our research will direct us on how we build out your campaign! We will write all the ads, set up the initial optimization, and make sure you are in the best starting position possible!
Optimize/Maintenance
These are technically two different things but they're often grouped together.
Maintenance – Short check-ins to make sure everything is running smoothly.
Optimization – This is where we take action and make things better based on data.
Why are they considered separate tasks?
We want to check every campaign every week for 15-30 minutes to see that they are running as they should be, however, you may not gain enough new data every week to act on. Generally, optimizations happen on a bi-weekly or monthly schedule depending on the amount of traffic for the campaign!
Report
We use awesome software that allows you to jump in at any time to your own private dashboard. This allows you to have peace of mind that everything is running as smoothly as it possibly could. If you see something you have questions about, you can always contact us to find out what our game plan is!
Why Choose Us To Run Your Paid Ads?
Saves Time
You're running your own business so that's going to take significant amounts of time, do you really have the time to become an expert in our business too?
Get Expert Results
Don't just throw your money away on something new that you haven't tried, we know the strategy to set you up for success in the long run.
Generate Immediate Sales
As soon as the ads are up (in as little as 12-24 hours), you can start generating sales, people will immediately be able to see your ads.
What Are The Benefits Of Ecommerce PPC?
There are significant benefits to ecommerce PPC here are a few:
More Traffic Will Translate Into Sales And Data
Cost-effective & Budget-friendly
Hyper-targeted Advertising Strategy
More Awareness With New Customers
Easily Track Measure And Correlate Results
More Traffic Will Translate Into Sales And Data
If you have little to no traffic on your site will be incredibly difficult to optimize your site since you don't know how people are actually finding you. If you have little or no organic data you can at least use your PPC data and extrapolate the results. We can see what terms are triggering your ads to appear, once we have a good enough sample size we can adjust our organic strategy based on successful PPC conversions. This will mature your organic efforts much faster.
Cost-effective & Budget-friendly
You can dictate exactly when, where, and how much to spend on your budget. There are also no restrictions on time so we can pause ads very quickly if something comes up and you need to save money for something else. We can also see what products are selling the best so we can allocate more funds to those.
Hyper-targeted Advertising Strategy
You can target your spending as fine-tuned as you need to. We can attack even specific postal and zip codes if necessary. You will also have lots of knowledge on who exactly is buying your product based on a number of attributes.
More Awareness With New Customers
Someone who isn't specifically searching for your brand has probably not heard of you before. However, general product searches can show your ads above all the organic results which will basically force users to at least look at them. If they don't recognize your brand they may be curious about a new experience!
Easily Track Measure And Correlate Results
Along with your own personal dashboard that will be set up for important stats, we can pull almost any kind of data you would ever want to see in Google Ads. More data is always better regardless of what anyone says.
Frequently Asked Questions About PPC Management Services
What are ecommerce PPC services? We use a variety of PPC ad types, some are exclusively used for ecommerce while others are not. How much do ecommerce PPC services cost? This will be decided during our initial meeting, we generally don't recommend doing less than a few hundred a month.
We use a variety of PPC ad types, some are exclusively used for ecommerce while others are not.
This will be decided during our initial meeting, we generally don't recommend doing less than a few hundred a month.